Big Data Hadoop and Spark Developer Certification Training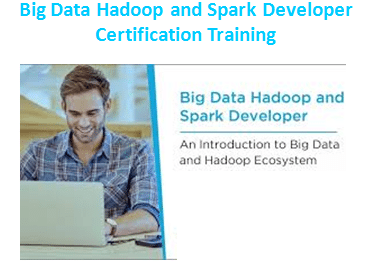 Le cours Big Data Hadoop and Spark Developer a ​​été conçu pour donner une formation approfondie du traitement d'énormes données en utilisant Hadoop et Spark. Le cours est comblé de projets de la vie réelle et des études de cas à exécuter dans le CloudLab.
Maîtriser Hadoop et des outils associés: ce cours vous permet de comprendre de manière profonde le cadre Hadoop, y compris HDFS, YARN et MapReduce. Vous allez apprendre à utiliser Pig, Hive et Impala pour traiter et analyser de grandes données stockées dans le HDFS, et utiliser Sqoop et Flume pour l'ingestion de données.
Maîtriser le traitement des données en temps réel avec Spark: Vous apprendrez à faire de la programmation fonctionnelle dans Spark, à implémenter les applications Spark, à comprendre le traitement parallèle dans Spark et à utiliser les techniques d'optimisation Spark RDD. Vous apprendrez également les différents algorithmes interactifs dans Spark et utilisez Spark SQL pour créer, transformer et interroger le formulaire de données.
vous serez tenu, dans le cadre de la formation,d'exécuter des projets réels de l'industrie à l'aide de CloudLab. Les projets font parti du domaine bancaire, télécommunications, médias sociaux, assurances et du e-commerce .
40 heures de formation dirigée par un instructeur
5 projets d"industrie dans le domaine bancaire, télécom, assurance et e-commerce
Comprend une formation sur Yarn, MapReduce, Pig, Hive, Impala, HBase et Apache Spark
conforme à l'examen de certification Cloudera CCA175
pratique avec CloudLabs
Course Features
Lectures

20

Quizzes

0

Duration

180 days

Skill level

Tous niveaux

Language

English

Students

0

Assessments

Yes